Last month I cited my father's advice in saying "if you can't say something nice then don't say anything." This month, I would like to point to the wisdom of Albert Einstein when I say, when considering the annual numbers for homes sales for Black Mountain, just remember, "It's all relative."
A quick glance down the column of percent change for the annual home sale statistics for Black Mountain homes in 2009 (provided by MLS) would seem to indicate a slow market. The largest positive percent change is in days on the Market, hardly a number you would like to see going up. Even the increase in homes sold, while positive, is fairly small.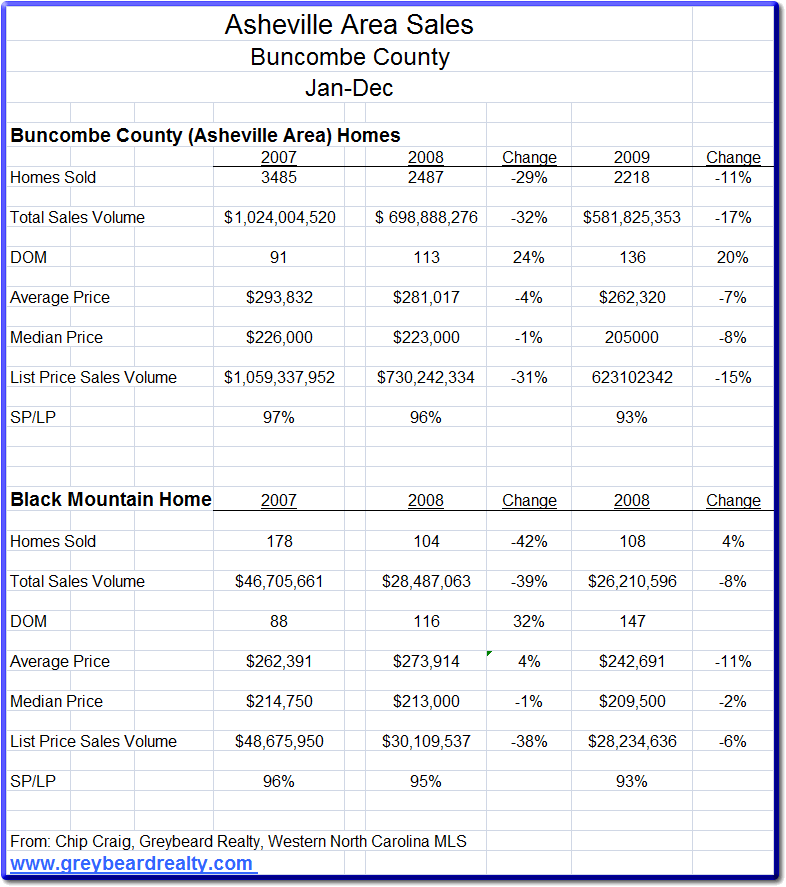 If you compare the percent change from 2008/2007 and 2009/2008, however, I think you will see my point. While the number of homes sold decreased dramatically in 2008, that number actually increased modestly in 2009.
In addition, if you compare Black Mountain homes sales with Buncombe County home sales for the year ending 2009, you will see that county-wide sales have actually fallen off 11%. Again, that decline is not as steep county-wide as it was in 2008 (29%), but it is a negative number nonetheless. The modest increase for Black Mountain illustrates to me that the housing market in our area is heading back in the right direction.
If you consider total sales volume for Black Mountain in 2009, you will see a decrease of 8% which on its own might be troubling. Compare that to the 39% decrease for 2008, and I believe you will see the reason for my optimism. Also, compare Black Mountain sales volume for 2009 (-8%) with Buncombe County sales volume (-17%) for the same period which further illustrates my point.
An even more positive sign for the Black Mountain real estate market is the significant increase in sales for the latter half of 2009, indicating a marked improvement over the last sixth months. In the last 6 months of 2009, total sales volume in Black Mountain was $16.3 million. Contrast that with the $11 million during the same period of 2008; that's a 48% increase in the last sixth months of 2009 versus the same period in 2008 which is a very positive sign.
There are still some pockets of concern. For example, the average home price of homes sold has declined 11% for the year. I would anticipate, however, that with the reduction in the number of homes on the market, that figure will also begin to stabilize during 2010.
As usual when I reflect on the statistics I offer caution. Yes, at first glance, it may look like there are more decreases than increases. With a closer analysis, however, I can glean some good news from less than positive numbers.
###