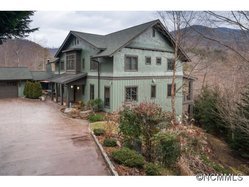 Western North Carolina
Dubbed "The Land of the Sky," the western region of North Carolina is unquestionably one of the most beautiful areas in the United States. The Blue Ridge Mountains of the Appalachian Range occupy this area, containing the highest peaks in the eastern United States. The mountainous landscape combined with the region's comfortable, temperate climate make this an ideal place to live year-round.
As the largest city in western North Carolina, Asheville is the region's center of commerce and culture, and many charming, quaint suburbs are scattered throughout the mountains, including Black Mountain, Fletcher and Fairview.

Real Estate in western North Carolina consist of a wide range of sizing and pricing options. So whether you're looking for a modest two-bedroom home, mountainside condo or luxury estate, Greybeard Realty can help guide you through every step of the buying or renting process.