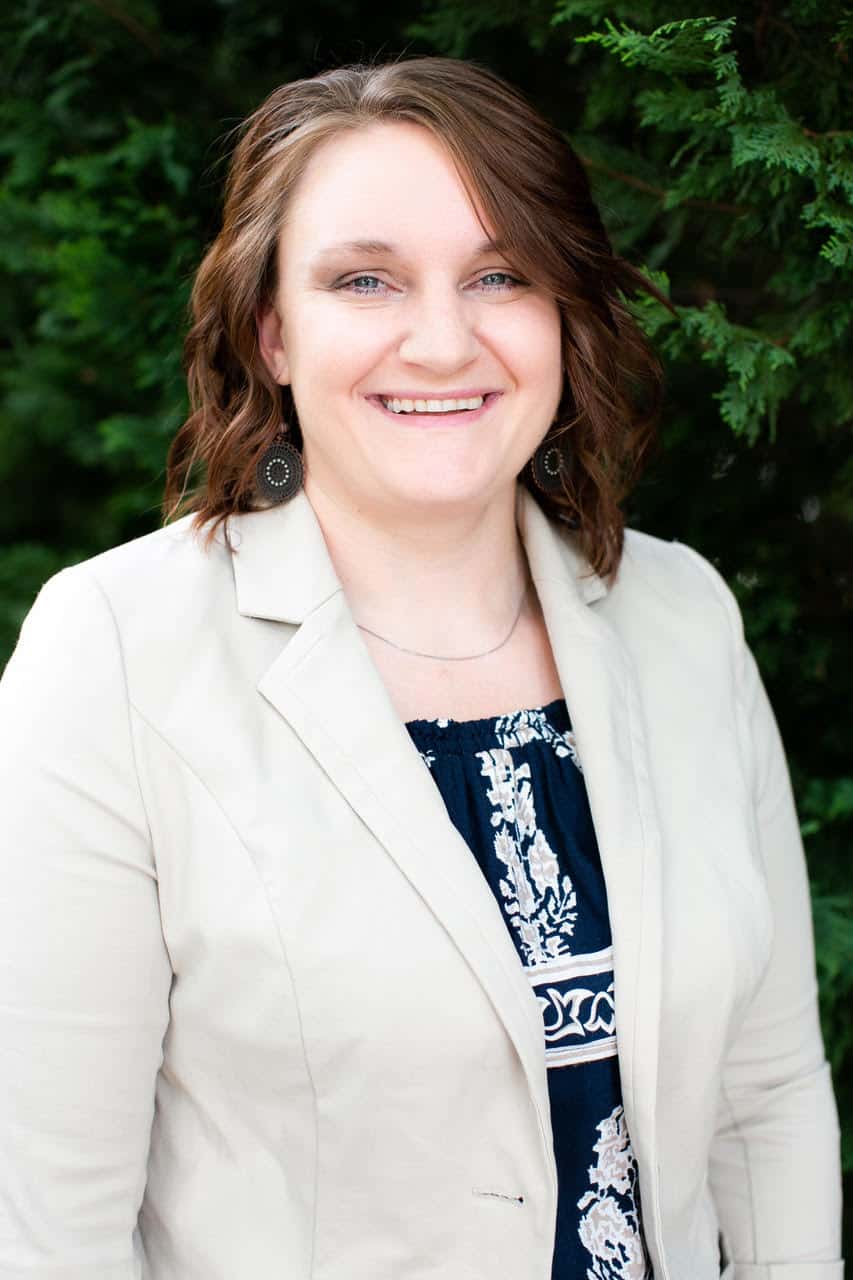 Managing Broker, Old Fort
|
Broker/REALTOR
Kirstie grew up in Old Fort and is a graduate of Old Fort Elementary and McDowell High School. With
degrees from McDowell Tech and UNC Asheville, Kirstie settled into Old Fort with her husband, Casey.
She loves introducing people to the area where she was raised. As a long-term resident of Old Fort,
Kirstie remains involved with numerous civic organizations including being a planning team member of
the Old Fort Community Forum, that is funded by the Kate B. Reynolds Foundation, and serving as [...]
Kirstie grew up in Old Fort and is a graduate of Old Fort Elementary and McDowell High School. With
degrees from McDowell Tech and UNC Asheville, Kirstie settled into Old Fort with her husband, Casey.
She loves introducing people to the area where she was raised. As a long-term resident of Old Fort,
Kirstie remains involved with numerous civic organizations including being a planning team member of
the Old Fort Community Forum, that is funded by the Kate B. Reynolds Foundation, and serving as an
elected Executive Board member of the Old Fort Chamber of Commerce.

Kirstie's previous work experience includes working in photography and movie productions and serving
as a social media marketing professional as well as running a small bakery. When not showing real
estate across the area, Kirstie enjoys scrapbooking, music, and cheering on the University of Tennessee
Volunteers football program.

With her wealth of knowledge and experience in this special part of western NC, Kirstie looks forward to
being your #OldForthometownbroker.

For more details on Kirstie's realtor certifications, click here realtor-certifications.
Office Location
243 Catawba Ave S
Old Fort, NC 28762
Specifications
Languages:
Specialties: AHWD, MRP, RSPS
Service Area:
Kirstie's Testimonials
Kirstie is the best. Lots of local knowledge and stuck with us to find a great place!
Clark Files
The process of buying our first home turned out to have more wrinkles than a shar-pei dog but no matter what issue came up Kirstie & Jeanne were there to get us through it all. I feel so blessed to have had them on our side. I highly recommend Kirstie to everyone in the market to buy a home.
Mary Ernsberger
Kirstie was very friendly and adaptable. She was pleasing to deal with and very helpful. We will gladly do business with her again in the future.
Cody Grindstaff
Kirstie was absolutely wonderful to work with. She's professional but down-to-earth and makes you feel comfortable asking a million questions. She tries her best to work on your schedule and goes the extra mile in every aspect. I highly recommend her!!!
Ashley Burleson
Kirstie was the best choice for us for our real estate transaction. She stuck with us through thick and thin and held our hands when things got rough. She also has a fantastic working knowledge of the area that has enabled us to move quickly through finding contractors. I am and will continue to recommend Kirstie to anyone!
Celeste Bull
Kirstie made our first time buying a home an absolute joy. We were able to communicate with her through every single step in the process. Making us feel supported and more knowledgeable. Setting us up with information about our new town, and connecting us with high quality businesses that took care of us. Buying a house is so specific to every single buyer, and we could see Kirstie assisting so many different real estate sales. Kirstie, a million times thank you for helping us get through the [...]
Bailey Dickens
We mistakenly thought the first house we viewed would be our home. Instead of that, it brought us someone who helped us find the perfect home. From traveling to any house (no matter where), facilitating our appointments (no matter what time), to standing by us while we signed for our dream home, Kirstie went above and beyond for us. Buying a home is the most important decision of our lives so far and she made things simple and easy. She recommend multiple services which brought us to very kind [...]
Bailey Dickens
If you are looking for a real estate agent that knows the business and the market, is on top of every aspect of your home search give Kirstie Conner a call. She helped us find our dream mountain cabin in WNC while we we living in Utah and made it seamless! Phenomenal real estate agent!
Charlie Bartlett
Kirstie was very professional and an excellent resource when she helped us sell my Father's home. It was a tough time and Kirstie really made the process a smooth one. I would recommend her to anyone.
Toni Marsh
Kirstie was an amazing realtor from the very first time we spoke with her! She was eager to help us find our perfect forever home! Our zillions of questions did not phase her and when we asked for her input/opinions, she gave them with honesty! When we did find our forever home and put an offer in, Kirstie was with us every single step of the way! I am so thankful that Kirstie was our guide and will forever send all my house-hunting friends to Kirstie!! Thank you!!
Jess Beck